WalterFootball Premium Content(ad-free)
Signing up for Premium will give you access to all the content on the main site in an ad-free format here: https://debacled.walterfootball.com/Premium/Content.
We may eventually restore an ad-free experience on the main site once performance issues are udner control but for now this is the more reliable way to deliver Walt's content. Debacled is a separate application with less traffic making it easier to maintain uptime wise. It's also easier for WFDevTeam to develop out features and continue to improve the reader experience. Any suggestions or complaints email WFDevTeam as dfield6091@gmail.com.
Set Me Up
By completing this step you'll be able to comment, build your own mocks, and participate in our contests.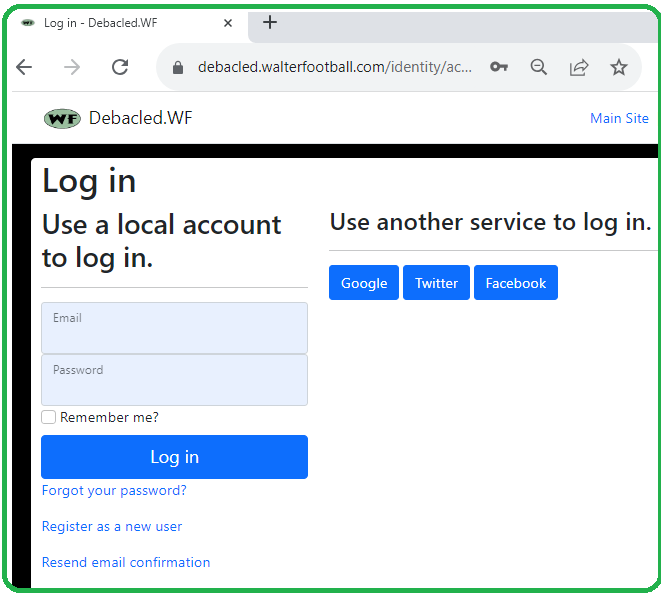 Sign Up/Log in
Step 2- It Involves $$$
$7.99 a month is the deal.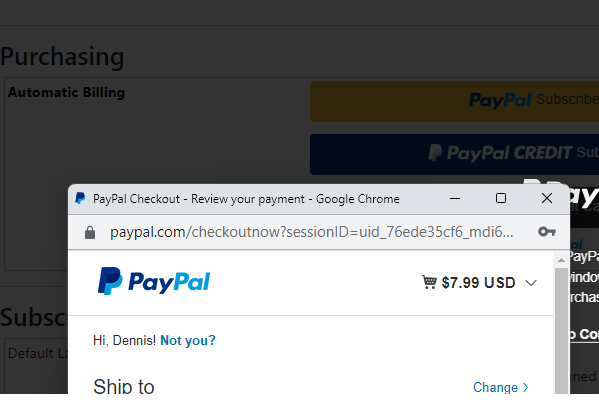 Step 3- Enjoy
Enjoy ad-free content here on Debacled.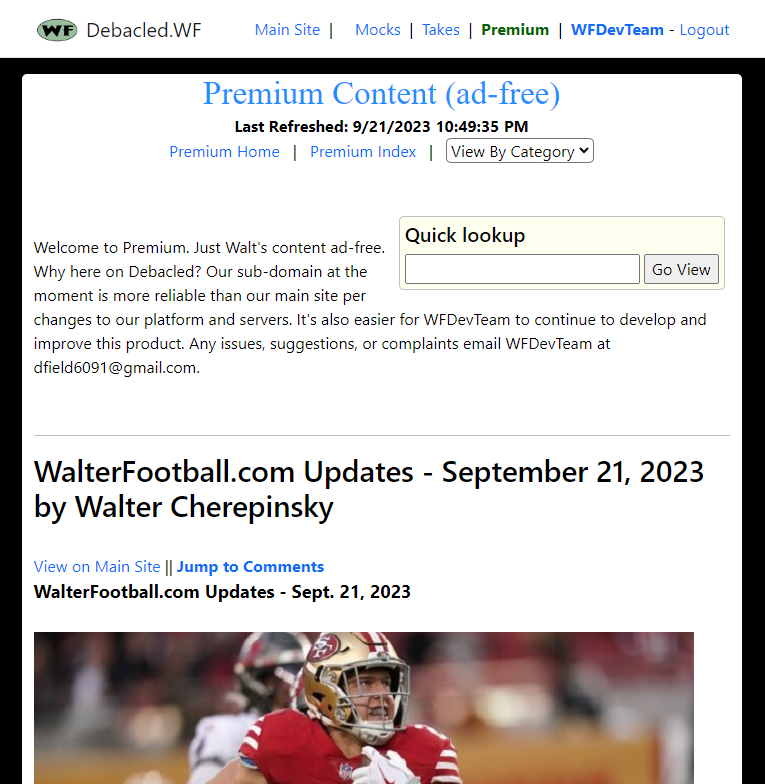 Start Now
A Letter From Walt:
I've made a promise throughout the 22 years of running WalterFootball.com that all of the content produced on this Web site would be completely free. Because of employee salaries, ridiculous corporate taxes and Web hosting costs, maintaining WalterFootball.com has been expensive. Losing advertising during the pandemic didn't help matters, so we've had to increase the number of advertisements on this Web site to compensate.
I will not install a paywall, but there is another alternative that has been proposed to me by dozens of readers during the past couple of years: an option to pay for an ad-free experience on the site. Thus, we're launching WalterFootball Premium. It'll contain the same content, but you'll be able to navigate the Web site without dealing with any ads, as long as you're signed into your account. We've discussed adding other elements to WalterFootball Premium down the road, such as a private discord, but that is not available just yet.
We had some debate about what the cost for WalterFootball Premium would have to be. I initally thought $9.99 per month would offset the costs, but after crunching the numbers, $7.99 per month is definitely feasible. I understand that this might be frustrating for some of you who don't want to pay, but because of increasing costs, it's a necessary fee for us to maintain the site if people stop seeing advertisements.
We've decided to launch WalterFootball Premium this weekend and give everyone a preview of what it would look like. To access WalterFootball Premium this weekend without paying anything, simply log into your account, or if you don't have one, create an account via the link in the top menu.
Thanks,
Walter Cherepinsky